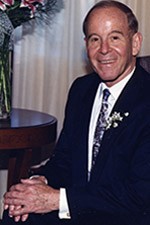 My father and mother, Alan and Lucy, were highly involved in the community in Montreal.
From the Jewish General Hospital, which my father helped found in 1934, to Israel Bonds and Hebrew University, my parents were deeply committed to Jewish — and non-Jewish causes. Giving came naturally to me — for which I am fortunate and deeply grateful.
The gift that our family has given in Montreal is a way to give back to the city where I grew up. It was a way to return, in some small measure, the richness that I enjoyed in that remarkable community. The gift that our family has given in Toronto sustains a solid foundation for the outstanding cityin which I now live.
Our family is committed to the philanthropic tradition my parents handed down to me. We hope to provide to our children, and their children a testament to our family values. We want to contribute to this diverse, exciting and growing population well into the future. We hope this will ensure continuity and support Jewish culture in the place that is their home.
By earmarking endowment funds for the campaign in perpetuity, we feel that we are casting a vote of confidence for UJA Federation and its staff, and their ability to determine priorities in the generations to come. Today's community professionals are a hard working and insightful group of individuals. In 20 years, our needs will undoubtedly evolve, and we trust that the people who are drawn to work with UJA Federation will find the kind of support that we are pledging today, and the wisdom to direct those resources accordingly.