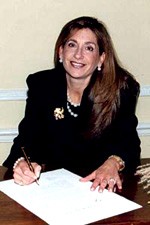 I always have considered myself blessed and privileged to have been born to parents who instilled values of charity, tradition, education and community. Thus, I credit my parents Honey (Annette) and Moses Nathan. They were the most significant educators and role models in my life. For many generations, as passed down to them, they taught my sister Arlene and me the value of our heritage. These ideals were imposed upon us to insure that our children and our children's children would follow in their footsteps.
In 1980, I married my high school sweetheart, Paul Bronfman in Montreal, and moved to Toronto to begin our life together. We have been incredibly blessed with three wonderful children, Alexandra, Jonathan and Andrew. They have all been immersed in Jewish education. Of my accomplishments in career and volunteer work, my supreme pride and joy is my family, my greatest treasures.
In our home, following from my parent's, it never matters if opinions differ. The subject, significance and importance is having an opinion and standing by your convictions. We fervently feel that future generations are obliged to possess a knowledgeable voice and be proficient and able to contribute in a worthwhile manner to our Jewish and secular community. As a mother, I seize the opportunity and bear the responsibility of taking the task of ensuring that our children have the values and education to perpetuate our future.
I feel most fortunate to have been able to endow my Lion of Judah gift. It is my desire to establish an example for our children, to stand by my belief and conviction in our heritage. As generations past, Paul and I hope that they too shall contribute in an affirmative manner and have a positive purpose in effecting constructive change. We are obliged to pass down to the next generation tradition, values and tolerance.We must seize the occasion to educate our children, for it is they who will be our community's future ambassadors.