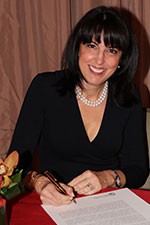 My parents, Basia Z"L and Israel Z"L Chaiton, met in in Wierzbnik, Poland. They married in 1939 but were separated when the Nazi horrors began. They both survived the camps, including Auschwitz, before reuniting in Sweden. My mother's family perished but my father's two brothers survived. In 1950, they came to Canada and settled in Toronto.
My parents also had a young child but sadly she died as an infant in the camps. They were never able to have any more children. In 1964, they adopted me and named me after each of their mothers (Kayla Sarah).
My father died suddenly when I was only 18. I remember him as kinder than kind and with a wonderful sense of humour. I can still recall the many evenings at home with my father and his brothers playing cards, singing and laughing together. He knew how to live joyously despite the horrors of his past.
My mother, left alone, faced tremendous hardship. It seems her entire life was framed by struggle -- but as she'd done before, she'd do again. She survived. And she lived for another 30 years – to the age of 91.
I write this story just a year after she passed away. Despite such a hard life, my mother leaves a legacy of strength, resilience and an unlimited capacity for love and forgiveness.
She was tenacious – tough on the outside but so loving on the inside. I believe she lived her life with purpose: To infuse in me (and my children) a clear, undeniable Jewish identity and to teach us how to live with kind, forgiving hearts. For all of that, I am so grateful. As I navigate the challenges in my own life, I attribute the lessons my mother taught me as life saving.
My children, Talia, Ben and Rachel, had a close relationship with my mother. They loved their Bubbie so much and because of her they know what it is to be a survivor. They will pass on her legacy to their children but as the survivor generation passes on who will be there to share the stories and teach the critical lessons to future generations? This concern has inspired me to establish a fund in my parents' honour to support the March of the Living.
We must never forget. We must live with open, forgiving hearts. We must march on. We must live with joy. This is at the core of my parents' legacy.
As told by their daughter, Cori Shiff