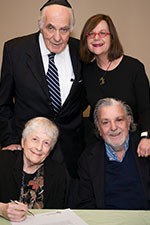 There is a well known expression that says one's life should not be counted in years but, rather, be counted by how one lived. This expression perfectly captures our beloved Miriam.
Though we lost her far too soon, at the age of 45, Miriam left a legacy that we are all attempting to emulate. She was a force to be reckoned with. She was tall and fashionable. She loved to learn and greatly valued education, even pursuing a university degree as a mature student. She had an innate ability to master anything she undertook.
She was adored by everyone, family and friends. She was the cement of our family. Even her daughter, Robin, recalls how when her friends would come over, instead of locking themselves in her bedroom — as so many teenagers do — she and her friends would prefer to sit on the couch and discuss virtually anything with Miriam.
As the middle child, and only daughter, to immigrant parents, Miriam grew up in a traditional Jewish home in an area of Montreal that was a neighbourhood for many immigrant families. Her grandfather was a shochet. Despite the usual struggle — of any immigrant family, she attended school (and was forced by her older brother Abe to finish high school) and she mastered every class. She even visited Palestine in 1947, with her mother and younger brother, because her grandmother and uncle lived there.
Miriam was a loving sister to Abe and Morris, sister-in-law to Marcy and Judy Z"L devoted wife to Malcolm, inspirational mother to Robin and David and beloved aunt and friend. And her love and compassion knew no bounds. She delivered books to hospitals, schools, or anywhere they were needed. She was such a fierce advocate for education and learning, she became an ESL teacher.
And so, after Miriam's sudden and untimely passing in 1981, a fund was established in her name that supports the purchase of books wherever they are needed in the community. It is a wonderful way to carry on Miriam's spirit and commitment to stimulate and expand the mind. It reminds us every day to strive for and to accomplish great things, as she exemplified so well.
As told by family members