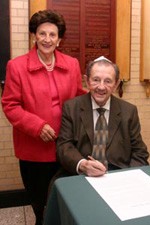 Poland is where we were born. Chenstacowa in 1922 and Apatowin 1924. My parents, Abraham & Sarah Forberg and siblings Miriam and Joseph were all killed. Syma's parents Chana and Wolf Jurkowska along with seven siblings were all murdered as well. We knew some went to the ovens of Treblinka.
When we were in our late teens, the Nazis invaded our hometowns, robbing us of our youth, our families and all that we knew to be normal. We were thrown into ghettos and then separated from our loved ones. Later we were herded into the Chenstacowa concentration camp where we were forced to work in a munitions factory. It was there that we met. We endured beatings,cold, lack of food and constant fear.
Some may call it luck, others can say it was destiny. W ewere liberated by the Russians in 1945 and married soon after. Whatever force was at play to keep us alive, we, as a result, were determined to stand proud as Jewish people and to ensure the survival of our people.
After the war, we were not welcome in Poland. Our neighbours' disdain went unabated. Upon seeing the 500 out of a pre-war population of 40,000, they exclaimed "how come so many of you were left alive?"
We left Poland not a moment too soon. We arrived in Canada in 1948 with our two young children, Joe and Honey. Esther and Billy were born after our arrival in Toronto. We had no money, no family - we had only our steadfast determination to establish ourselves in Toronto and to give our children opportunities we could only dream of.
We saved whatever money we earned. We eventually bought a home and raised our children to understand Jewish tradition and custom emphasizing the mitzvah of tzedakah ( charity),a lesson we had been taught by our parents. This lesson has also been passed down to our 10 grandchildren and 11 great-grandchildren.
Talking about the horrors as survivors was not easy but in time we shared some events with our children and later taped for the Shoah through Stephen Spielberg. When we became established we continued to support many charities in Canada and Israel.
Today, at 81 and 83, it frightens us to see so much hatred pervade the world, against Jews and others. When Jewish cemeteries are desecrated in our very city, we are stunned, but another part of us understands all too well why it happens. The Jewish people are forever a target. We feel our community must stand together in support of all our institutions. We need to guarantee ourselves the survival of our people and culture wherever we are in the world.