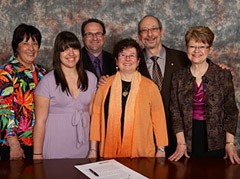 In its short 38 year history, Solel Congregation of Mississauga, with a membership of more than 300 families, has much to be proud of. Of our many accomplishments, we take great pride in the humanitarian efforts made by members of Solel, based on Jewish principles. Our dynamic congregation continues to thrive and, above all, seeks out great activities to the benefit of Solel and the community at large.
Our commitment as a progressive, Jewish centre would not be complete without a strong tie to Israel. Our synagogue is twinned with Kehilat Darchei Noam, in Ramat Hasharon, Israel. Many of our congregants have visited our sister congregation and we have had five missions to Israel, led by our wonderful Rabbi Lawrence Englander.
As a source of religious inspiration, Solel also serves as an education facility for our neighbours of different faiths. We have a unique experience living in Mississauga that is not a small city, by any stretch, yet is home to a small but very committed Jewish community.
Along with our friends from other faiths, we are founding partners and continued supporters of the Mississauga Community Food bank, Pathway Community Developments of Peel (a non-profit subsidized housing organization) and Pathway Community Programs (which supports breakfast and homework clubs at Pathway facilities). More inwardly, we offer programming for our members as young as two years old up to adulthood. Solel boasts a very high retention rate of students, even after they have become B'nei Mitzvah. Those who stay on graduate at age 16. In honour of our religious school graduates' confirmation, it was decided that instead of purchasing a physical gift for the school, the graduates — with their parents — would create and contribute to the newly established Kallah Endowment Fund through Toronto's Jewish Foundation. It is the best way to secure our congregation's many worthwhile activities and it perpetuates our practice of tikkun olam, which is a motivation behind so much of our work and teachings.
The fund is a wonderful expression of self-preservation and ensures for our members that our needs, as a congregation, are looked after. We are not merely here for ourselves but we are always thinking to the future. How fitting that the graduates of the supplementary school, who are relatively young, can be contributors to a fund that is meant to preserve Solel's existence – and all the wonderful work that comes from its congregants. It is, both literally and figuratively, to the benefit of our younger members.